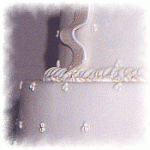 Something Extra Cakery has a full selection of cake flavors and fillings. Please don't hesitate to ask us if you don't see what you need.
Cakes
White Chiffon
Chocolate
Red Velvet
Carrot
Butter Pound Cake
Fillings
Chocolate Mousse
White Chocolate Mousse
Ganache
Fresh Strawberries (seasonal)
Fresh Raspberries (seasonal)
Raspberry Jam
Crushed Almonds
Chocolate chips
Liquer – amaretto, rum,
gran marnier, chambord,
and Kahlua
Buttercream flavors – mocha,
chocolate, lemon, coffee,
and pineapple.
Favorites
White Mousse! White chiffon cake with creamy white chocolate mousse and raspberry jam.
Amaretto Supreme! Layers of light white chiffon cake with crushed almonds as a filling brushed with amaretto liquer.
…and for chocolate lovers only…
Chocolate Truffle Cake! Rich chocolate cake filled with dark ganache (chocolate).
Coverings
Dark Chocolate Fondant
White Fondant
Ganache
Basket weave
Chocolate raspberry delight! Rich chocolate cake and chocolate mousse with raspberry jam and chambord liquer.
NOTE: You can combine one or more of any filling listed.